The Man Who Began It All…
31st July 2023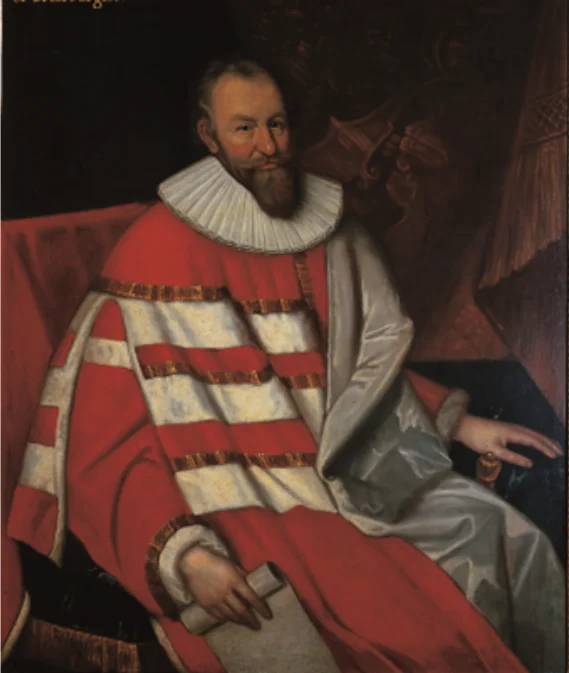 From the 13th century to the 16th century, the area either side of the modern border between England and Scotland was lawless and wild. Sometimes called the 'debateable land', it was fought over by powerful families and their allies for whom 'national' allegiance was only partly a motivation.
The landscape of these borderlands was mostly used for the grazing of livestock, rather than arable farming, and the exploitation and theft of this resource was an often contested and potentially lucrative business. The personalities of the period, tough, hard fighting men, have come to be known as the Border Reivers, a term first seen in print from the pen of Sir Walter Scott. The man responsible for the ennoblement of the Ker family was one such, often mentioned in the same breath as others such as Kinmont Willy Armstrong and the Bold Buccleuch. An uncompromising man with a talent for violence, but also for being in the right place at the right time.
The eldest son of William Ker of Cessford, Warden of the Scottish Middle March, Robert was one of the most colourful characters to inhabit the Borders during the reiving period. George McDonald Fraser's account of Ker's career pulls no punches, but reflects the region in the time in which Ker lived, describing him thus, 'a fierce, fearless and proud Border callant who, although he normally acted as Warden in his father's place, was as practiced a reiver as any on the frontier. "Ambitious, proud, bloody in revenge, poor and easily framed to any purpose", was how a contemporary described him'. Fraser goes on to conclude, in summary of the reiving period that, 'the good man survives, if he is lucky, the villain becomes the first Lord Roxburgh', in a time of lawlessness and villainy, Robert Ker stood out. It was Robert Ker's father who benefitted from the dissolution of the estates of Kelso Abbey in 1580, greatly expanding the family land holdings. 
From an early age, Ker was learning the trade of raid, robbery and fighting for a living. His first recorded activity was when he was fifteen, and participated in a raid on Stirling. Two years later, he was a leader, along with the Bold Buccleuch and Lord Johnstone, at the head of 2,000 men in a raid against the Collingwoods. This raid so displeased King James, that he forbade Ker from marrying Mary, the daughter of Maitland of Lethington. Ker married her anyway, and ended up in jail as a result. This marriage produced three children, a son, who died in 1618, and two daughters, the eldest married the 2nd Earl of Perth.
He was knighted in 1590, and fled Scotland after a plot of his to murder one of the Ancrum Kerrs was revealed. His possessions were forfeited as a result, though he was pardoned in 1591. The feud with the Ancrum Kerrs was to continue for another sixteen years. His talents were put to use in 1593, when he was made Deputy Keeper of Liddesdale, he also began assisting his father with his duties as Warden. This did not hamper his raiding activities. In 1595, he was at Wooler with eight riders, and killed three men. He then hopped over the border, looking for trouble, but finding none spent his time socialising and drinking in 'enemy territory'.
His elevation to the king's Privy Council coincided with a feud with the Turnbulls, several murders and much theft, not bad for a man of twenty-five. By 1597, he was credited with sixteen killings, and he and the Bold Buccleuch had cost the English Marches some £60,000. His campaign of disruption, murder and destruction was briefly arrested in 1598, when he was imprisoned by English Warden, Sir Robert Carey. The relationship between the two, so volatile in previous years, softened to the degree that Carey eventually considered Ker a friend; it seems that Ker was as charming as he was dangerous.
He was created Lord Roxburgh in 1600, though the great castle of that name, that sat across the Tweed from modern Floors Castle, was largely a ruin at this time, it's prestige remained. Ker accompanied King James to London in 1603 when he assumed the English throne. James made him Earl of Roxburgh in recognition of his loyal service, in 1616. He was Keeper of the Privy Seal between 1637 and 1649, and took up the cause of Charles I at the outbreak of Civil War in 1642.
His second marriage, to Jean Drummond, produced a son who pre-deceased his father. It was from this line that the fifth Duke of Roxburgh eventually came. His eventual successor, who inherited due to a special arrangement with Parliament, was William Drummond (later Ker), Robert's grandson from his first daughter's marriage to the Earl of Perth.
Robert Ker's long and colourful career in arms, and in service to the Crown, has echoed through subsequent history. A line of Earls followed him, and the fifth of these was created 1st Duke of Roxburghe by Queen Anne in 1707. Without the tenacity, endurance and skill of his reiver ancestor, the story may well have been very different.