Become a Volunteer with Floors Castle Walled Gardens
13th April 2023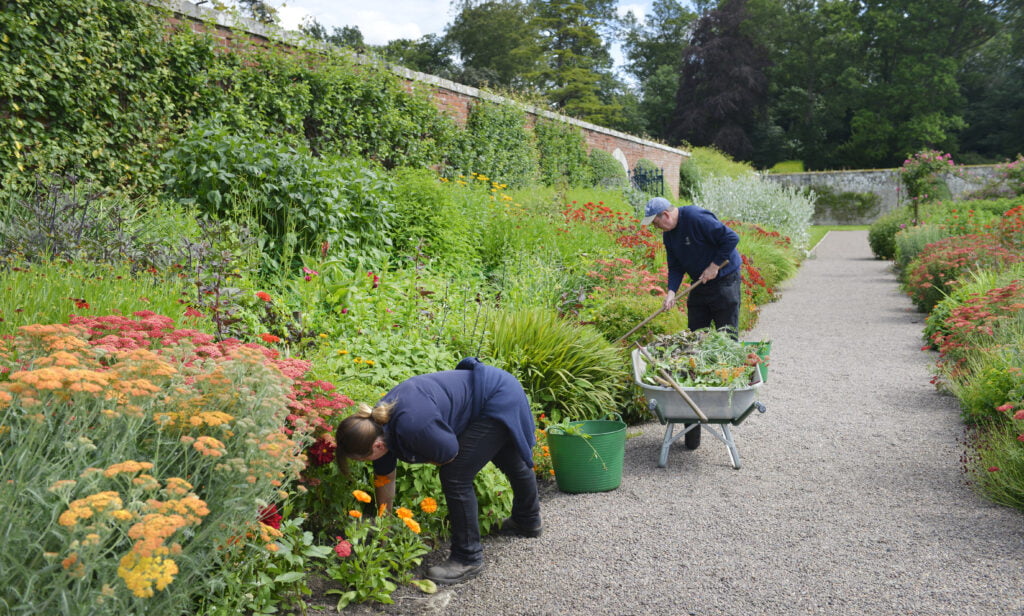 Meet the Team on 21 st April!
We love our gardens and our gardening team always need help to ensure that the Walled Garden looks at its very best all the time. We are a permanent team of three so rely on a dedicated team of talented volunteers to help us maintain the gardens.
Our volunteers offer us their time, support and passion to maintain the plants, keep our herbaceous borders in tip top condition, grow fantastic fruit and vegetables and help us to deliver garden tours. They also help us to welcome visitors and inspire the next generation to get involved in horticulture. Floors Castle Walled Garden is an impressive and inspirational four acre walled garden with unique Herbaceous Borders, heritage fruit trees and kitchen and cutting gardens. Together with the famous glasshouses where figs, grapes and peaches as well as an array of cacti, palms and unusual pot plants and tender perennials are propagated; the opportunity to learn and be involved gives you the opportunity to gain experience in lots of different areas of the garden and the tasks involved. We need people to join our Volunteer Team for 2023 and are holding a recruitment morning for potential volunteers to come along and meet the team and get an idea of what would be involved, what the gardens are like and what a lovely place you could spend some time in for a few hours a week next year!
If you have the following attributes we would be keen to meet you on the day – just click on the link below to register and we look forward to meeting you soon!
A passion for gardening and an interest in our work here at Floors Castle
A positive, polite manner and a can-do attitude
The ability to use your own initiative and follow instruction as necessary
A willingness to spend most of your time outdoors (it rains sometimes!) and to be on the go a lot!
Where needed – you will be given the information and/or training needed to assist the team. If you have previous horticulture experience or are just a keen gardener who wants to spend time in a beautiful garden!
We offer a range of benefits to our volunteers to thank you for giving us your valuable time including:
A free annual pass to enable you to explore the wider gardens, estate grounds and walks
and the castle itself when open to the public
A Christmas present from The Apple Shed
Access to our gardening team for advice, training and knowledge exchange
Involvement in garden events and invitations to our special Christmas and Summer parties
We look forward to meeting you on Friday 21 st April at the Queens House at 11.00 am