Meet the Roxburghe Estates Team
27th July 2023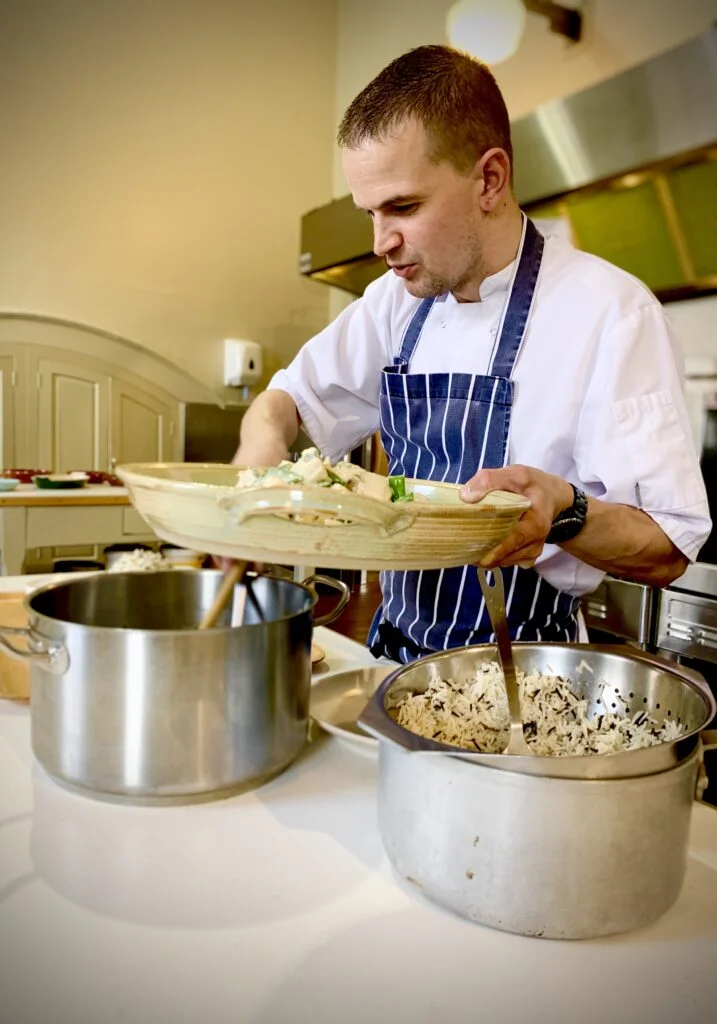 Meet Floors Castle Head Chef, Chris Weston
Next up in our "Meet the Roxburghe Estates Team" feature is the Castle's Head Chef, Chris Weston or "Westie" as he is known to us around the Estate. Westie arrived at the Floors Castle Kitchen over eleven years ago in 2010, aged 27. Having grown up in St Andrew's he went on to study Professional Cookery at Elmwood College in Cupar. His first job was at The Old Course Hotel in St Andrews and he has subsequently worked in prestigious places such as The Balmoral, Edinburgh, and The Gleneagles Hotel.
In 2009, he arrived in the Borders at the Roxburghe Hotel as a Pastry Chef, and came to Floors Castle for a function that involved working with our Head Chef at time. Westie's talents were quickly spotted and it was clear he had a unique flair. A call was made to the Hotel, which was then owned by the Roxburghe family, and he was effectively poached (no pun intended!) from the Hotel and given a position here at Floors.
He began life in the Castle Kitchen as Sous/Pastry Chef and was initially brought in to "freshen up" the existing team. Seven years ago Westie was made Head and Private Chef to the Duke and Duchess of Roxburghe; only the fourth person to hold the position in fifty years.
Asking Westie how he would describe himself as a Chef he replies, "a classically trained chef with modern twists". When asked what he enjoys most about his job he answers without hesitation; he enjoys the freedom of his job, a lot of Chefs are tied down with menus and the ingredients they can use, whereas he can cook more freely. He also enjoys cooking with the fresh, seasonal produce the Estate provides him with. He especially loves the winter months, during the shooting season, when he gets to work with the wonderful Estate game and travel into the hills and moorlands to cook lunch for the family and their guests.
I then of course had to ask him what the worst thing about the job was… "fishcakes!!!" he said, shaking his head with a cheeky grin. It's a far from a glamourous job, it's a sacred and expensive recipe – it can't go wrong! Only he and one other Chef prepare Floors Castle's famous fishcakes together, and it's a huge job. They make 600 fishcakes at a time using 25kg of fish. In peak season they do this twice a month, off season once a month, but sometimes more depending on demand.
Westie heads a team of five in the Castle Kitchen, and they are responsible for a huge array of catering tasks here at Floors. Not only do they produce pretty much everything you eat at both the Cafés including Afternoon Teas, but they also make all the Floors produce we have for sale in the Apple Shed Deli, Castle Gift Shop, and online, including their ever popular freezer meals. They also cater for all group tours, offer demonstrations and prepare banquets, as well as looking after private and corporate functions in the Castle's formal Dining Room and elsewhere.
During his career Westie has cooked for some rather famous people including our newly appointed King Charles III, Hugh Jackman and Samuel L Jackson while he worked at St Andrew's Bay Hotel, Sean Connery at the Balmoral, and most recently Bryan Adams here at Floors Castle. Finishing off our chat Westie tells me the biggest change he has seen in the last eleven years is overseeing the sweeping changes in the modernisation of a kitchen that has been in place since the 1830s.
Keep your eyes peeled for Head Chef Westie's delicious new Menu's that will be launch seasonally in the Terrace Café, which guarantees lots of his seasonal favourites using locally and Estate sourced produce.