Meet the Roxburghe Estates Team – December
13th December 2022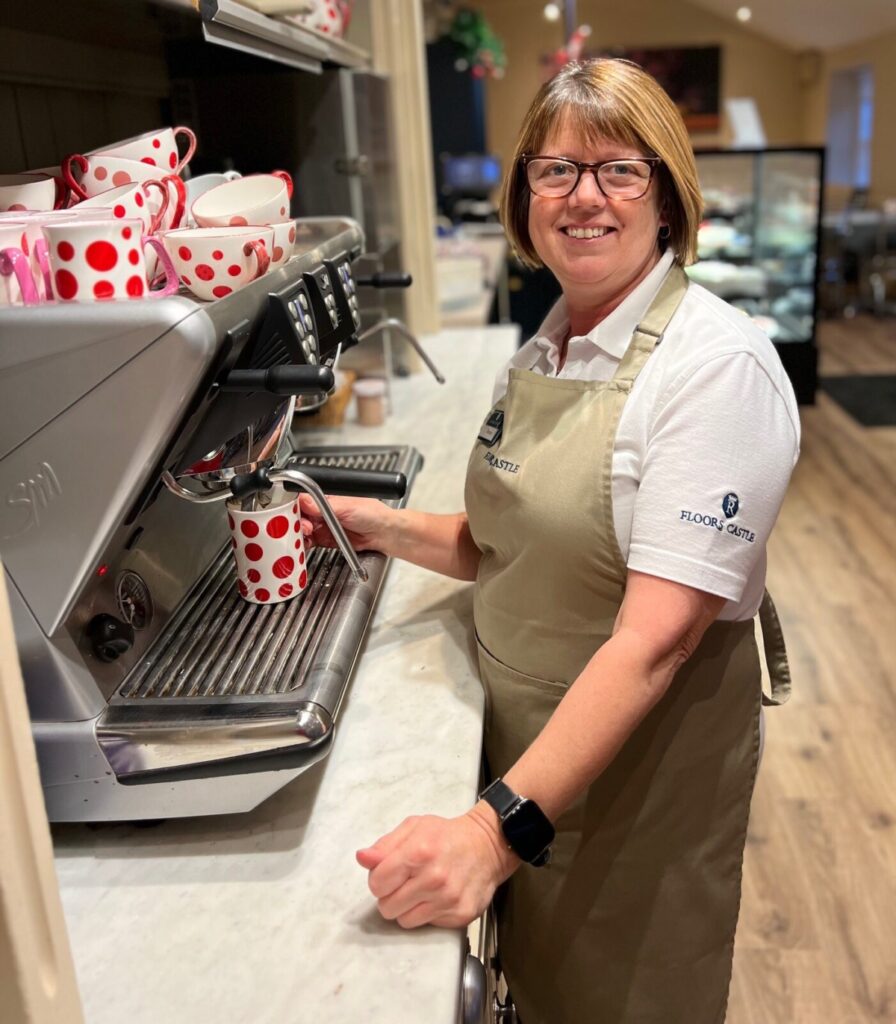 This month we meet our Catering Manager, who was born in Roxburgh village, attending Roxburgh Primary and Kelso High School.
In our "Meet the Roxburghe Estates Team" feature this month we introduce you to Doreen Ford, our Catering Manager. Local lass Doreen was born in Roxburgh village, attending Roxburgh Primary and Kelso High School. When she left school Doreen began working in the Lyle & Scott knitwear factory in Kelso, and then Hawick before taking a job at Plexus in Kelso.
In February 2005 Doreen joined the Roxburgh Estates team as supervisor of the Courtyard Café, where she remained for 2 seasons before a job became available as Manager at the Terrace Café, she now manages both the Terrace and Courtyard. When asked what the best part of her job is, she answers without hesitation, 'the customers are my favourite 99% of the time! They are fabulous and really make the job fun and interesting. Lots of them are on holiday and always in the happy holiday mood, I love to hear their stories and interact with them. We also get lots of regulars who we get to know well. I also really enjoy serving our more elderly customers, I love seeing them meet their friends and enjoy time in the Café and Gardens.'
When asked what she dislikes most about the job, she smiles and says, 'sadly it comes with the territory… the complaints, but the compliments and good feedback make up for the few complaints that we receive.' She would also love a bigger kitchen in the Terrace to make things easier for the Chefs and the team.
The most famous person Doreen has served in the Terrace Café is Chris Tarrant, who was fishing in the area and stopped by one day for some lunch. Prue Leith has also been welcomed to the Terrace by Doreen and her team.
Doreen has many strings to her bow, as well as overseeing both catering establishments at Floors Castle, she hires the staff, does the staff rotas, time sheets, ordering food and provisions from the Castle Kitchen and all the other suppliers, takes bookings, afternoon teas, any event catering that involves the cafes and logistics, she also helps out in the Castle at some corporate and private events, really the list is endless!
However, she is very quick to credit her second in command, Joan, and her hardworking team, whom it's clear she cares a great deal for. She is keen to mention that the two most important things in her job are the customers and her team. 'Always put a smile on your face,' she says. 'No matter how you are feeling within yourself, always smile and be kind to the customer, this is their experience, so you want it to be a good one for them. Making sure the staff are happy is a huge priority of mine which is quite difficult to manage because a lot of the staff are seasonal and are only needed between May and September, so I have a smaller team of around 8 in the winter and 20 in the main season.'
Doreen is a highly conscientious and hardworking member of the Floors Castle team; basically she eats, sleeps and breathes her job to the point that one night she awoke at 2AM, thinking she left the storeroom door unlocked and drove all the way to the Terrace from Kelso to check, only and find that the door was indeed locked! On another occasion she woke bolt upright waking her partner Graeme, who also works on the Estate, telling him she had forgot to order bread for the next day, when (you guessed it…),  she had already ordered the bread!
After 18 years here I ask her what she hopes for in the future of the Terrace Café, she smiles and replies that she would like to think she is still here to the day she retires (we hope you are too Doreen, we would all be lost without you!), and hopes the catering business keeps going from strength to strength, continuing to provide the service she is proud to offer.
We are sure many of our Café diners will have met Doreen when they have visited us over the years and got to know her smiling face, be sure to say hello to her next time you pop in!