Roxburghe Estates – Finalist in 2020 Helping It Happen Awards
7th September 2020
We are delighted that Roxburghe Estates (in partnership with EDF) has been selected as a finalist in the Community Champion of the Year (South East) category in the 2020 Helping It Happen Awards! Organised by Scottish Land & Estates.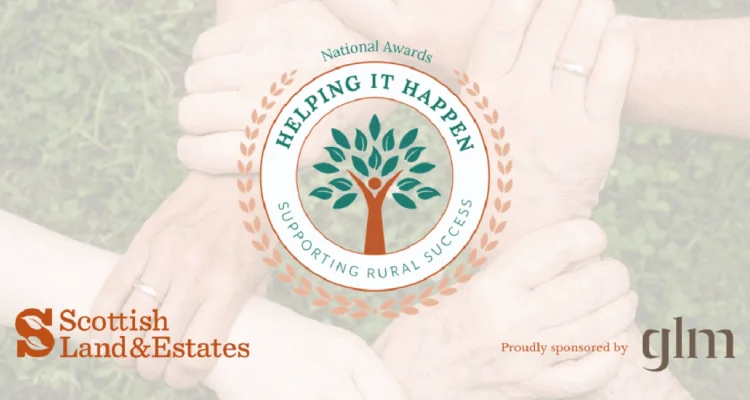 The finalists for the Helping It Happen Awards 2020 have now been announced, with nominations for those who have contributed to Scotland's rural economy, enhanced the environment or supported their communities during the Covid-19 pandemic.
Now in its fourth year, the Helping It Happen Awards, sponsored by GLM, have become firmly established in recognising the role of estates, farms and rural businesses who are helping rural Scotland thrive. The awards are organised by rural business organisation, Scottish Land & Estates.
This year, there are 12 awards in total, with seven award categories complemented by community champion awards across five regions. A full list of the award categories and nominees are listed below.
The winners will be announced via a video premiered on YouTube at noon on 30 September.
Sarah-Jane Laing, chief executive of Scottish Land & Estates, said:
"More than ever, this year has typified what Helping It Happen is all about – individuals, rural businesses and organisations going the extra mile to make a positive contribution to society. This work benefits us all by sustaining rural employment, providing high quality housing or helping Scotland meet its climate change goals.
"The pandemic, and particularly the lockdown period, has given rise to many inspiring stories as people use their own talents, time and money to support their local communities. This is reflected in many of the nominations, particularly in the regional community champion awards. The nominations have been as strong as ever this year and we are pleased that the Helping It Happen awards are firmly established as a way of recognising how Scotland's diverse rural businesses and organisations are making a vital contribution."
Click here to see the full article and list of finalists.