The Bird Room at Floors Castle
31st October 2023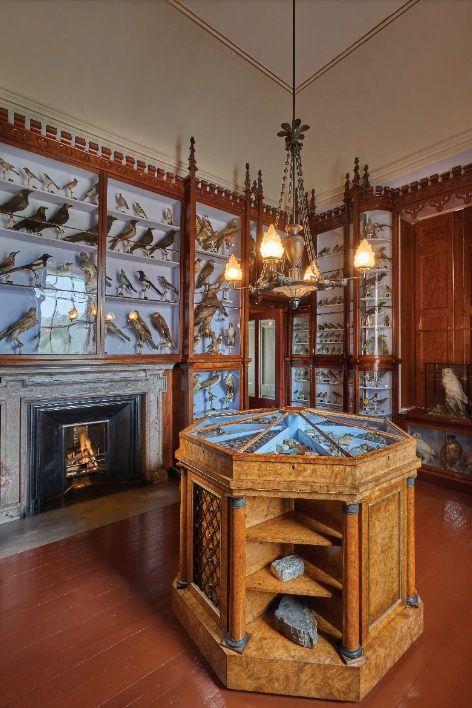 Of all the rooms one can see when visiting Floors Castle, perhaps the most unique is the aptly named Bird Room. Situated in a wing of the house that was altered by architect William Playfair in the late 1830s, this fascinating space begins a range of rooms that were very much the domain of James, the 6th Duke of Roxburghe.
The Gallery beyond now houses a collection of Porcelain from around the world, but once exhibited a range of hunting trophies. At the end of the Gallery, was the duke's Billiard Room, and adjacent to this was his laboratory, which is now used to display the Coronation Robes belonging to the 8th duke and duchess.
The Bird Room is indicative of the influence of natural historians and scientists such as Alfred Russell Wallace and Charles Darwin had upon the attitudes and interests of the aristocracy, and indeed the Nation as a whole, during the Victorian period. The assemblage in this room is a great example of a Country House Museum, reflecting an enthusiasm for collecting, the natural world and Antiquarianism perhaps best embodied by Sir Walter Scott, who was a regular visitor to Floors in the early 19th century, and whose home at nearby Abbotsford would have been familiar to the duke and is packed with natural history specimens. Scott's torch was picked up after his death in 1832 by many others.
The room contains over 400 stuffed birds, most are species that can still be found in the Scottish Borders, but some are from much further afield, including Bee Eaters, Golden Orioles and Hoopoes. There is just about every variety of bird present, from waterfowl to raptors, and game birds to garden birds. Many of the local examples were mounted by a Mr Heckford of Kelso for the 6th Duke. Distinctive amongst them are the pair of Great Bustards, the feathers under the beak of the male making it look distinctly like a distinguished Victorian gentleman. These are large birds that are biologically dimorphic, in that the male is around twice the size of the female. Once extinct in Britain, they have recently been re-introduced in Wiltshire. There is also the now extinct American Passenger Pigeon, that once gathered in murmurations of millions in the United States, but was severely impacted by deforestation and hunting, the last captive bird died in 1914.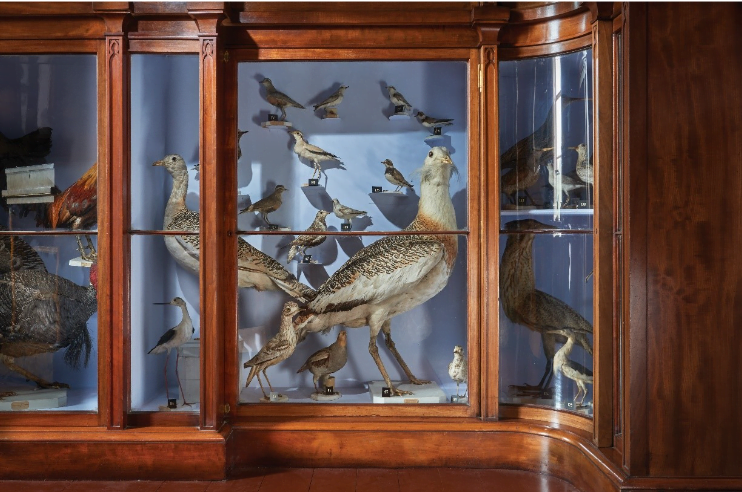 The striking Gothic mahogany cases are from a time prior to Playfair's alterations, and their presence has preserved a marble fireplace from Floors' original architect, William Adam. The central display table is in pollard Elm, and dates from the Regency period, containing an eclectic assemblage of geological samples and coinage from the Roman to Victorian periods. The Bird Room divides opinion today, some find it enthralling and others find it odd, but it remains a fantastic example of historical collecting and is a unique survivor from a bygone era.